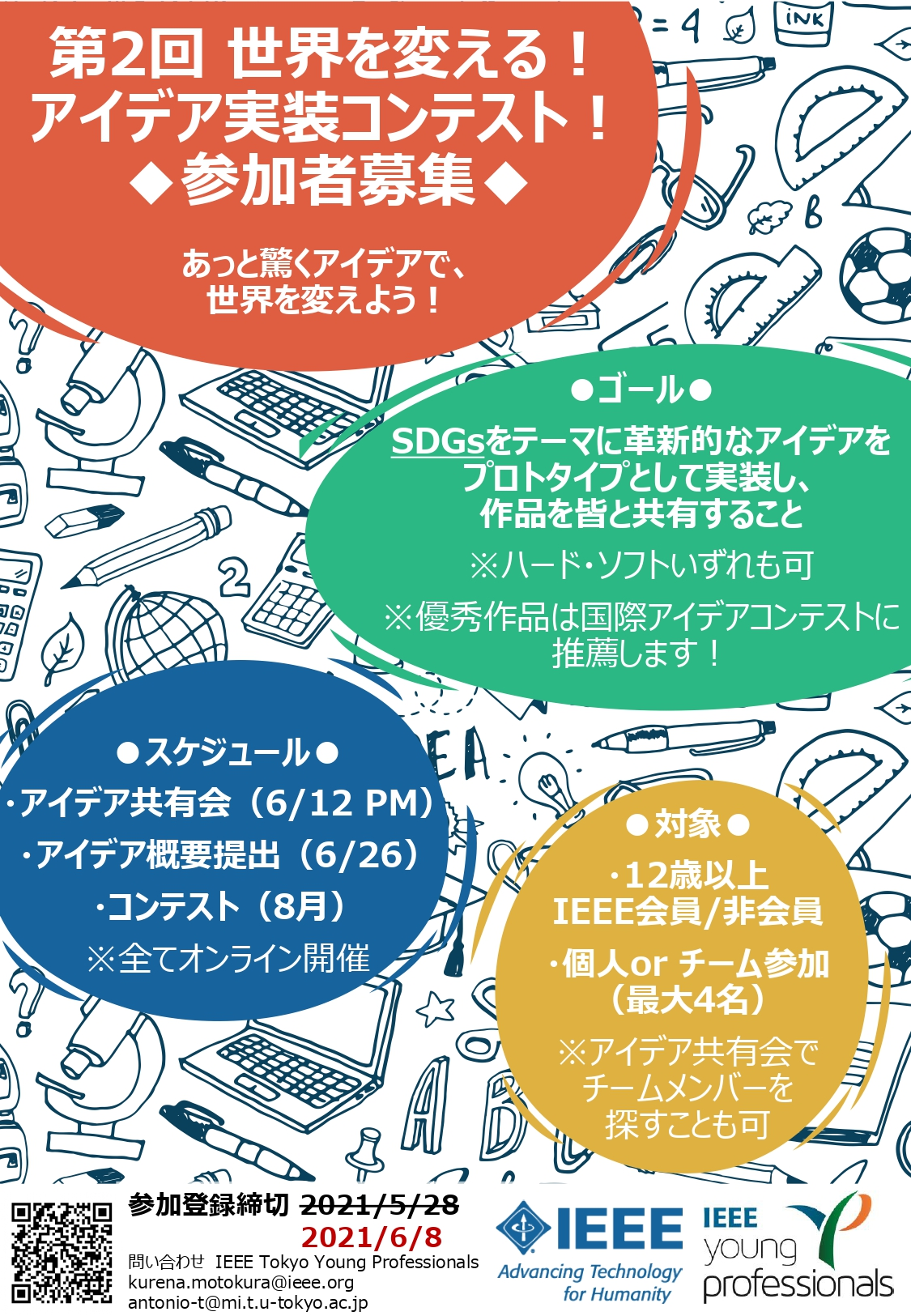 ◆◆Looking for participants in the 2nd Contest on "Implement your idea! Change the world!"◆◆
Prakash Chaki, IEEE Tokyo Young Professionals Chair
The IEEE Tokyo Young Professional Affinity Group (Tokyo YP) will hold the 2nd edition of Annual Idea Contest with the topic "Implement your idea! Change the world!". (Co-organizer: IEEE Tokyo Section Educational Activities)
Contest Results
The contest was held on August 21th. The following report shows the summary of this event and results.
Event Report
◎ Goal
Come up with an innovative idea in the field of Sustainable Development Goals (SDGs), implement an initial prototype (either hardware or software), and share your work with everyone! SDGs are explained here: https://sdgs.un.org/goals
Outstanding ideas and works will be recommended for the IEEE YESIST 2021, an international contest to be held online in the fall of 2021. YESIST 2021 is the perfect place to share and interact with participants from around the world. See YESIST 2021 HP for details.
https://ieeeyesist12.org/
◎Schedule
・Idea sharing (June 12th afternoon, online)
In an early stage of the contest, you will have the chance to share your ideas with other participants and exchange opinions. The goal is to further develop your idea and also come up with new ideas. We will also help you to build your team, by finding people with similar ideas and people complementary skills to yours.
・Idea abstract submission (June 26th)
By the end of June, you should decide your team members and submit the abstract of your idea. The implementation of the prototype is not required yet.
・Contest (August, online)
In this event, teams will present the prototype implementation of their idea. Outstanding works will be awarded according to the following criteria:
– Interestingness of the idea (is it innovative?)
– Design (is its presentation exciting?)
– Impact on solving the problem (would people be happy if it existed?)
– Feasibility (can it be realized?)
– Practicality (would it be easily usable? Does it consider environmental and human rights?)
◎Target participants
・IEEE members/non-members over 12 years old: Anyone can participate
・Individual or team (up to 4 people): In the idea sharing event you can find new team members.
◎Registration
Please register via the following form: https://forms.gle/rJFYDd8evS72CP8BA
If you are a team, only one registration (i.e., the team leader) is necessary.
Deadline: May 28th
June 21th @ 24:00
◎Contact
Tokyo YP
・Kurena Motokura:kurena.motokura@ieee.org
・Antonio Tejero-de-Pablos:antonio-t@mi.t.u-tokyo.ac.jp
We are looking forward to your participation!