[March 16, 2018]
The Sixth IEEE Tokyo YP STEP Event
– Hitachi Research & Development Laboratories Tour and Discussion with Researchers
STEP (Student Transition & Elevation Partnership) Event is an event that encourages student members to become IEEE members, and companies and academic societies collaborate to raise their awareness of career development as engineers and researchers in the field of electronics engineering.
The Sixth IEEE Tokyo YP STEP Event was held on Tuesday, September 5, 2017, from 2:00 p.m. at Hitachi Central Research Laboratory with 17 students.
A brief explanation from researchers were given at each research department, and conducted lab tours and discussions. A social gathering party was held at the cafeteria including more than 10 young researchers of the Hitachi Central Research Laboratory. All students enjoyed nice talking with researchers.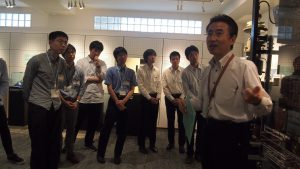 Dr. Tatsuya Teshima
Planning Office, Central Research Laboratory, Research and Development Group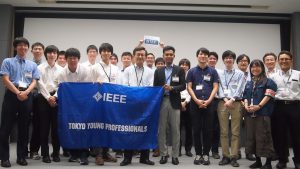 Tour and Lecture Meeting of Tokyo Section Life Members Affinity Group
LMAG Tokyo has hosted a tour based on IEEE Milestone certification since last year.
This year, a tour was held at "Yosami Radio Transmitting Station" in Kariya City, on October 6, 2017.
It was certified as IEEE Milestone in 2009.
Though it was the first attempt to do outside the Tokyo branch area, 13 people participated, and volunteers from the Yosami Radio Transmitting Station Memorial Museum guided them around the museum.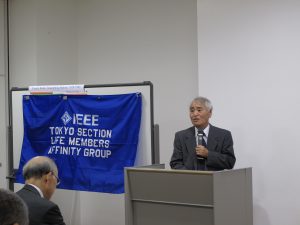 As a speaker, invited Dr. Eisuke Arai, emeritus professor at Nagoya Institute of Technology,
the title was entitled,
"Investigation on the inductor-type high-frequency alternator of Yosami Radio Transmitting Station and its IEEE Milestone Certification".

After the lecture, the tour was guided in the museum by many volunteers.
The 2017 Fourth Meeting of Tokyo Section Executive Committee
The 2017 Fourth Meeting of Tokyo Section Executive Committee was held on Friday, December 22, from 3:00 p.m. at UDX Conference, Akihabara, Tokyo.
◆Minutes  *Japanese-only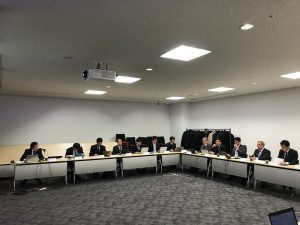 Schedule for 2018

First Meeting

 Thursday, March 29

Kikai Shinko Kaikan

Second Meeting

 Friday, June 15

Akihabara, UDX

Third Meeting

 Friday, September 28

Akihabara, UDX

Fourth Meeting

 Tuesday, December 18

Kikai Shinko Kaikan
Announcement: IEEE Tokyo Section The 2018 Annual General Assembly
IEEE Tokyo Section will host The 2018 Annual General Assembly, The 2018 First Commemorative Lecture, and Celebration for The 2018 New Fellows, on Thursday, March 29 at Kikai Shinko Kaikan.
If you have any questions about the Tokyo Section Annual General Assembly, please email IEEE Tokyo Section : tokyosec@ieee-jp.org
Notice from IEEE Tokyo Section Office
Tokyo Bulletin is published via E-mail.