2020-06-01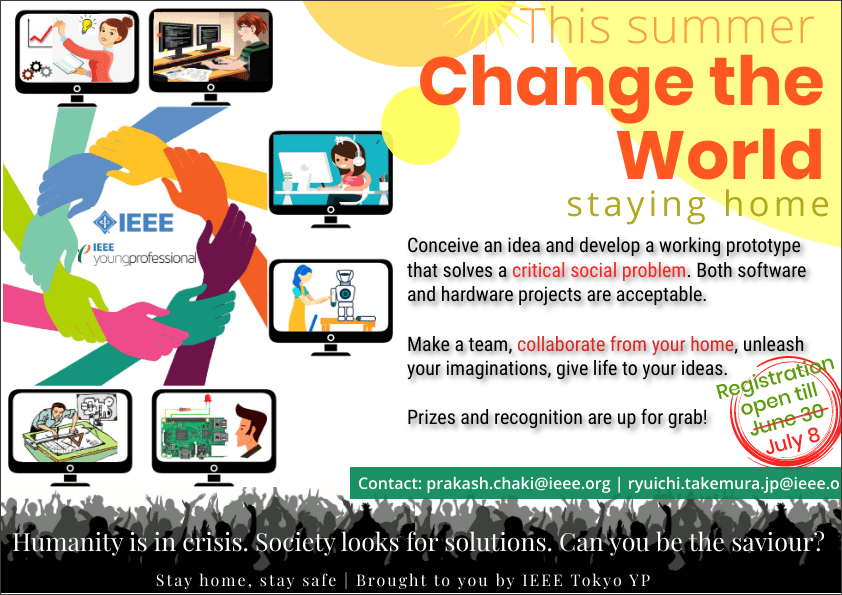 ◆◆アイデア実装コンテストの参加者募集◆◆
(You can change the world! Idea implementation contest)
Takashi Yoshida, IEEE Tokyo Young Professionals Chair
Hello everyone,
We at IEEE Tokyo Young Professionals (YP) affinity group are elated to bring to you one of the biggest technical extravaganza of the year, "You can change the world! Idea implementation contest": Conception to Prototyping.
The event will be one of its kind where you will have the opportunity to get your friends on board with you, unleash your creative instincts, design skills and coding talents together to solve a critical social problem.


1.Goal:
Conceive an idea and develop a working prototype that solves a critical social problem.
Both software and hardware prototypes are acceptable.

2.Eligibility:
Anyone, both IEEE members and non-members, can apply.
Individual or Team participation are welcome.

3.How to apply?:
To apply, please send the following information to the email a. address provided below.
(i) Team member names
(ii) Affiliation (Arbitrarily)
(iii) Social issue that you wish to solve
(iv) Project description (preliminary description of the idea)
Please attach visual descriptions such as photos, videos, or an application software itself.
You can choose the best way to explain your idea.
(v) How effectively does the proposed idea solve the social issue?
b. Language: Japanese or English
c. Application deadline: June 30, 2020 -> July 8, 2020, 23:59 (JST)
d. Send your application to:
・Prakash Chaki:prakash.chaki@ieee.org
・Ryuichi Takemura:ryuichi.takemura.jp@ieee.org

4.Presentation:
a.Schedule: Saturday, Nov. 27 (tentative)
b.Presentation format: Online
(Further details will be sent to the applicants on a later date.)
5.Judgement criteria and award:
Outstanding projects will be rewarded at IEEE event.
Projects will be judged based on the following criteria.
a.Novelty of the proposal
b.Design quality
c.Impact of the idea in solving the social issue
d.Feasibility/practicality
(Is it possible to be realized in practice, environmental and human rights consideration, ease of use etc.)
6.Contact:
For any inquiry, just drop an email to
IEEE Tokyo YP
・Prakash Chaki:prakash.chaki@ieee.org
・Ryuichi Takemura:ryuichi.takemura.jp@ieee.org

7.Co-sponsored:
Japan Council Student Activity Committee (SAC), Tokyo SAC.

Hurry up, call up your friends, apply now and showcase your cool ideas! Join us in the celebration of spirit of creativity and gain recognition.
2018-08-26
【IEEE YP/WIE Notification】

The 10th IEEE Career Building Essay Contest (Extended Deadline)
■■■—————————————————————
IEEE Tokyo/Nagoya/Kansai YP, JC/Kansai/Sendai WIE
The 10th IEEE Career Building Essay Contest
—————————————————————■■■
IEEE Tokyo /Nagoya / Kansai Young Professionals
Chair
IEEE JC / Kansai / Sendai Women in Engineering
Chair
IEEE Tokyo/Nagoya/Kansai Section Young Professional Affinity Group as well as、
IEEE Japan Council/Kansai Section Women in Engineering Affinity Group、
This year we again invite young members, female members to submit to our career building essay contest.
We invite everyone, "Students","Young researchers and engineers","Senior
members","Industry","Education","Business", from different fields to participate in this contest.

1.Content
Theme: Contribute to the Future
How do you think you can contribute to society, when you are designing your career or learning new skills? What sort of future are you creating through the challenges you are taking on?
How have IEEE and university activities affected your career and skills?
If you want to share lessons learned from your experiences, expectations or concerns about the future, or if you have any message for your juniors, please write them down in an essay.
2.Judging criteria and prizes
Judging criteria
Please write your essays based on your own experiences, opinions, and ideas.
Authors will be notified of the results of the judging and the judges' comments, and might be useful for job hunting.
Your essays will be judged based on the criteria listed below.
Originality of the message
Societal impact
Proactiveness of your activity
Persuasion
Essay structure
Contents related to "Young Engineers" career (YP awards)
Contents related to and promote female career advancement, the creation of a diverse society and work-life balance (WIE awards ・ Entries are open for both female and male writers)
Prizes
First Prize(Certificate, JPY 20,000 in cash)
YP Category Awards(Certificate, JPY 10,000 in cash)
WIE Category Awards(Certificate, JPY 10,000 in cash)
Undergraduate Category Awards (Certificate, JPY 5,000 gift card)
Results will be released on 31 October, 2018.
Prizes will be awarded at an IEEE YP/WIE event which will be held on December 1, 2018, the details of which will be announced later.
3.Submission
Deadline
Saturday, September 15, 2018 Sunday, September 30, 2018
"Eligibility of Submission"
Submission must be done individually
(Open to everyone. IEEE membership is not mandatory. No age or gender restriction.)
*Only on winning, especially the first prize, we would ask the winner to be a member of IEEE by the awarding ceremony
"Submission Format"
Should be written in either English or Japanese, 1 A4 page length. (no restriction in writing style, can be academic paper, article, essay, etc). Please use the provided form.
Submission Form(Download)
"Submission"
Please send via email to " andarini[at]IEEE.org " with the subject [2018 IEEE Essay Contest].
If you do not receive a confirmation email within 3 days, please re-send your submission.
4.Organizer
IEEE Tokyo YP, IEEE Nagoya YP, IEEE Kansai YP
IEEE Japan Council WIE, IEEE Kansai WIE, IEEE Sendai WIE
For the details and current activity of each Affinity Group, please follow the links listed below
IEEE Tokyo YP: http://ieee-jp.org/section/tokyo/about/yp.html
IEEE Nagoya YP: http://ieee-nagoya.org/nagoyaYP/ja/
IEEE Kansai YP: http://www.ieee-jp.org/section/kansai/organization/YP/
IEEE JC WIE: http://www.ieee-jp.org/japancouncil/affinitygroup/WIE/
IEEE Kansai WIE: http://www.ieee-jp.org/section/kansai/organization/WIE/
5.Contact
IEEE Tokyo YP Lidwina Andarini
E-mail : andarini@ieee.org