IEEE Milestone Dedication Ceremony and Commemorative Lecture
(The 2014 Third Commemorative Lecture of Tokyo Section)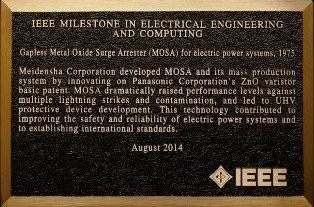 Dedication Ceremony of IEEE Milestone for Gapless Metal Oxide Surge Arrester (MOSA) for electric power systems, was held on August 18th, 2014, at Grand Prince Hotel New Takanawa, Tokyo, Japan. It was approved as an IEEE Milestone on November 24th, 2013. IEEE Tokyo Section hosted the Dedication Ceremony for the Plaque of IEEE Milestone in Electrical Engineering and Computing. In this ceremony, Prof. Toshitaka Tsuda, Chair, IEEE Tokyo Section, gave an address. Prof. J. Roberto de Marca, IEEE President and CEO, presented commemorative plaques to Mr. Yuji Hamasaki, President, Meidensha Corporation.
After the Dedication Ceremony and the celebration lunch party, the lecture session entitled "IEEE Milestone Memorial Lecture" was held at Grand Prince Hotel New Takanawa, Tokyo, Japan with 80 participants. At the beginning, Prof. Isao Shirakawa, IEEE Japan Council History Committee Chair, gave an introductory talk on IEEE Milestone.
The last lecture entitled "Technologies Trend of Metal Oxide Surge Arrester" was presented by Mr. Masayuki Takada. The titles of the invited lecturers are listed below.


Title
Lecture
IEEE Milestones
Prof. Isao Shirakawa
(IEEE Japan Concil History Committee, Chair)
Birth of Gapless Metal Oxide Surge Arrester (MOSA) and its Business Development Activities in Formatives Years
Mr. Misao Kobayashi
(Representative Director, Power System, Surge Protect KK)
Technologies Trend of Metal Oxide Surge Arrester
Mr. Masayuki Takada
(Assistant Senior Engineer, Engineering Department, SORESTER Factory Meidensha Corporation)

Jaxa Tour and the Lecture of Tokyo Section Life Members Affinity Group

LMAG Tokyo held Japan Aerospace Exploration Agency Tour at 1:30 a.m. with 35 participantsins in 10th July,2014, and the above lecture meeting in co-sponsorship with IEEE Tokyo Section at University of Electro-Communications at 3:30 p.m. with about 74 participants. The lecturer was Dr. Keiji Tachikawa, Former President, Japan Aerospace Exploration Agency, and the talk was entitled "Space development of Japan and the future prospects".

Pictures

The 2014 Second Meeting of Japan Council Executive Committee

The 2014 Second Meeting of Japan Council Executive Committee was held on Thursday, July 17th, 2014, from 3:00 p.m.in Nagasaki Prefecture.




Notice from IEEE Tokyo Section Office