IEEE Milestone Dedication Ceremony and Commemorative Lecture
(The 2013 Fifth Commemorative Lecture of Tokyo Section)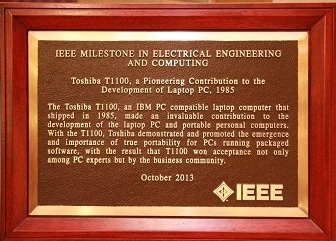 Dedication Ceremony of IEEE Milestone for Toshiba T1100, a Pioneering Contribution to the Development of the Laptop PC, was held on October 29th, 2013, at Hotel Okura, Tokyo, Japan. It was approved as an IEEE Milestone on May 20, 2013. IEEE Tokyo Section hosted the Dedication Ceremony for the Plaque of IEEE Milestone in Electrical Engineering and Computing. In this ceremony, Prof. Toshitaka Tsuda, Chair, IEEE Tokyo Section, gave an address. Dr. Peter W.Staecker presented commemorative plaques to Mr. Atsutoshi Nishida, Chairman of the Board and Director, Toshiba Corporation.
After the Dedication Ceremony and the celebration lunch party, the lecture session entitled "Commemoration of IEEE Milestone Award on Toshiba T1100, Laptop PC" was held at Hotel Okura, Tokyo, Japan with 80 participants. At the beginning, Prof. Isao Shirakawa, IEEE Japan Council History Committee Chair, gave an introductory talk on IEEE Milestone. The second lecture entitled "Japan and IEEE: Moving forward with Innovation while Honoring and Learning from the Past" was presented by Dr. Peter W. Staecker, the IEEE President and CEO. The last lecture entitled "Laptop PC T1100, IEEE Milestone Commemoration Lectures" was presented by Mr. Atsutoshi Nishida, Chairman of the Board and Director, Toshiba Corporation. He noted that T1100 was developed with a concept of "Anyone, anytime, anywhere". Toshiba set a high sales target and approached a task with an endless inquiring mind and passion, and the associated sections collaborated and overcame difficulty and opened up a new market. The Toshiba PC's which started at T1100 always evolved with innovation, continued providing new values in the world and promoted birth and growth of a Notebook PC market and the parts supply industry. He gave a talk including stories as the project leader of the T1100 product plan.
The titles of the invited lecturers are listed below.


Title
Lecturer
IEEE Milestones
Prof. Isao Shirakawa
(IEEE Japan Council History Committee Chair)
Japan and IEEE: Moving forward with Innovation while Honoring and Learning from the Past
Dr. Peter W. Staecker
(IEEE President and CEO)
Laptop PC T1100
`IEEE Milestone Commemoration Lectures`
Mr. Atsutoshi Nishida,
(Chairman of the Board and Director,Toshiba Corporation.)

The 2013 First Meeting of
Japan Council Chapter Operations Committee

The 2013 First Meeting of Japan Council Chapter Operations Committee was held on Friday, May 24, 2013, from 2:00 p.m. at Kikai Shinko Kaikan Building.

Minutes (Japanese only)
Pictures


The 2013 Fourth & Fifth Lectures of Tokyo Section

IEEE Tokyo Section and LMAG Tokyo held two Lectures for Professor Sadaoki Furui and Professor Shinichi Takagi in cosponsorship with IEICE Tokyo Section at Kikai Kaikan, on October 18 and November 29, 2013.
Please refer detail here

The 2013 Third Meeting of Japan Council Executive Committee

The 2013 Third Meeting of Japan Council Executive Committee was held on Wednesday, November 27, 2013, from 3:00 p.m. at Keidanren Kaikan, Tokyo.

The 2013 Meeting of Japan Council Long Range Strategy Committee

The 2013 Meeting of Japan Council Long Range Strategy Committee was held on Monday, November 18, 2013, from 3:00 p.m. at Kikai Shinko Kaikan Building.

Proceedings summary of the committeeF



In 2012, financial administrations had a hard time due to strength of Yen, but it was relieved by weakness of Yen in 2013. We will perform fiscal consolidation in 2013 while coping with fluctuation of the exchange rates without retrench of our activities. As to the transition to a Section series of JC Chapter, we confirmed the situations that the transition procedure made by Tokyo Branch has been developed in each Chapter through JC COC (Chapter Activity Committee). All chapters will complete transition by the end of 2014, and we examined the way COC would be after that. We will have COC in each section, and JC COC continues to be a place of cooperation confirmation of the chapters and sharing the problems. In addition, we examined a plan to increase the IEEE membership and the way IEEE JC would be.

Tokyo Section Executive Committee Meeting Schedule for 2014
First Meeting
Friday, March 14
Tokyo
Second Meeting
Friday, June 6
Tokyo
Third Meeting
Friday, September 12
Tokyo
Fourth Meeting
Friday, December 5
Tokyo




Notice from IEEE Tokyo Section Office