IEEE Milestone Dedication Ceremony and Commemorative Lecture
(The 2014 Fifth Commemorative Lecture of Tokyo Section)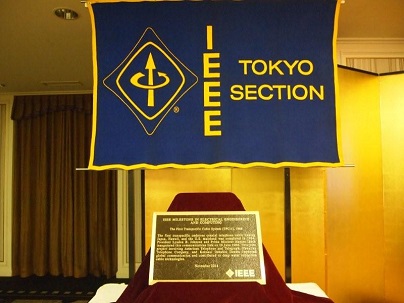 Dedication Ceremony of IEEE Milestone for The First Trans-Pacific Cable System (TPC-1), was held on November 12th, 2014, at Hotel Grand Palace, Tokyo, Japan. It was approved as an IEEE Milestone on July 14th, 2014. IEEE Tokyo Section hosted the Dedication Ceremony for the Plaque of IEEE Milestone in Electrical Engineering and Computing. In this ceremony, Prof. Toshitaka Tsuda, Chair, IEEE Tokyo Section, gave an address. Prof. Isao Shirakawa presented commemorative plaque to Mr. Takashi Tanaka, President, KDDI Corporation.
After the Dedication Ceremony and the celebration lunch party, the lecture session entitled "IEEE Milestone Memorial Lecture" was held at Hotel Grand Palace, Tokyo, Japan with 150 participants. At the beginning, Prof. Isao Shirakawa, IEEE Japan Council History Committee Chair, gave an introductory talk on IEEE Milestone.
Second lecture entitled "TPC-1" was presented by Mr. Atsuo Ebata, President, AMMEC and Mr. Hachirou Tamaki, formerly with Ocean Cable Co., Ltd. The last lecture entitled "TPC-1 to FASTER' was presented by Mr. Shigeto Kiritani, CTO, KDDI Corporation.
The titles of the invited lecturers are listed below.


Title
Lecture
IEEE Milestones
Prof. Isao Shirakawa
(IEEE Japan Council History Committee, Chair)
TPC-1
Mr. Atsuo Ebata
(President, AMMEC )
Mr. Hachirou Tamaki
(formerly with Ocean Cable Co., Ltd.)
TPC-1 to FASTER
Mr. Shigeto Kiritani
(CTO, KDDI Corporation.)

The 2014 Second Meeting of
Japan Council Chapter Operations Committee

The 2014 Second Meeting of Japan Council Chapter Operations Committee was held on Friday, November 21, 2014, from 2:00 p.m. at Kikai Shinko Kaikan.

Pictures


IEEE Workshop on Japanese Industry Promotion

IEEE Workshop on Japanese Industry Promotion was held on November 8 – 9, 2014, at Nishi-Waseda Campus, 55 Building, Waseda University, Tokyo, organized by IEEE Japan Council and Tokyo Section supported by Waseda University. Number of participants was about 104 consisting of members from IEEE MGA, Japan Council, Sections, Student Branches, YPs, WIE, LMAG and also non-members from industries.

Pictures

The 2014 Third Meeting of Japan Council Executive Committee

The 2014 Third Meeting of Japan Council Executive Committee was held on Wensday, December 3rd, 2014, from 2:00 p.m.in Keidanren Kaikan. In commemoration of 2015 IEEE Haraden Pratt Award recipent Prof. Fumio Harashima, President, Tokyo Metropolitan University, a memento was presented.

Schedule for 2015
First Meeting
Monday, March 16th
Tokyo
Secound Meeting
Wednesday, July 6
Tokyo
Third Meeting
Wednesday, December 1st
Tokyo

The 2014 Sixth Lecture of Tokyo Section

The 2014 Sixth Lecture of IEEE Tokyo Section was held on December 8th, 2014 in Kikai Shinko Kaikan with 60 participants. The lecturer was Dr. Miwako Doi, Auditor, National Institute of Information and Communications Technology, IEEE Fellow, formerly withToshiba Corporation. The talk was entitled "The Application-oriented Human Interface R&D - From Nonsense to Commonsense".


Pictures

The 2014 Fourth Meeting of Tokyo Section Executive Committee

The 2014 Fourth Meeting of Tokyo Section Executive Committee was held on Friday, December 5, from 3:00 p.m. at the Keidanren Kaikan, Tokyo.

Tokyo Section Executive Committee Meeting Schedule for 2015
First Meeting
Friday, March 20
Tokyo
Second Meeting
Friday, June 19
Tokyo
Third Meeting
Friday, September 25
Tokyo
Fourth Meeting
Friday, December 4
Tokyo

Notice from IEEE Tokyo Section Office