IEEE Milestone Dedication Ceremony and Commemorative Lecture
(The 2014 Second Commemorative Lecture of Tokyo Section)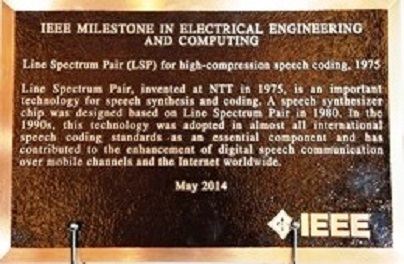 Dedication Ceremony of IEEE Milestone for Line Spectrum Pair (LSP) for high-compression speech coding, was held on May 22nd, 2014, at Palace Hotel Tokyo, Japan. It was approved as an IEEE Milestone on January 21st, 2014. IEEE Tokyo Section hosted the Dedication Ceremony for the Plaque of IEEE Milestone in Electrical Engineering and Computing. In this ceremony, Prof. Toshitaka Tsuda, Chair, IEEE Tokyo Section, gave an address. Prof.J.Roberto de Marca, IEEE President and CEO, presented commemorative plaques to Mr. Hiroo Unoura, President & CEO, NIPPON TELEGRAPH AND TELEPHONE CORPORATION.
After the Dedication Ceremony and the celebration lunch party, the lecture session entitled "Commemoration of IEEE Milestone Award" was held at Palace Hotel Tokyo, Japan with 100 participants. At the beginning, Prof. Isao Shirakawa, IEEE Japan Council History Committee Chair, gave an introductory talk on IEEE Milestone. The second lecture entitled "The status of usage of Line Spectrum Pair (LSP) for speech compression" was presented by Dr. Takehiro Moriya, NTT Communication Science Laboratories,Fellow. The last lecture entitled "How Line Spectrum Pair (LSP) was devised" was presented by Prof. Fumitada Itakura, Nagoya University.
The titles of the invited lecturers are listed below.


Title
Lecturer
IEEE Milestones
Prof. Isao Shirakawa
(IEEE Japan Council History Committee Chair)
The status of usage of Line Spectrum Pair (LSP) for speech compression
Dr. Takehiro Moriya
(NTT Communication Science Laboratories, Fellow)
How Line Spectrum Pair (LSP) was devised
Prof. Fumitada Itakura
(Nagoya University)

The 2014 First Meeting of
Japan Council Chapter Operations Committee

The 2014 First Meeting of Japan Council Chapter Operations Committee was held on Friday, May 23, 2014, from 2:00 p.m. at Kikai Shinko Kaikan Building.

Pictures


The 2014 Second Meeting of Tokyo Section Executive Committee

The 2014 Second Meeting of Tokyo Section Executive Committee was held on Friday, June 6, from 15:00 p.m. at the Keidanren Kaikan, Tokyo.

Tokyo Section Executive Committee Meeting Schedule for 2014
Third Meeting
Friday, September 12
Tokyo
Fourth Meeting
Friday, December 5
Tokyo




Notice from IEEE Tokyo Section Office