First Lecture of 2008 hosted by IEEE Tokyo Section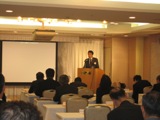 After the General Assembly, the First Lecture of 2008 was hosted by the Tokyo Section entitled "Brain and Robot". The invited lecturer was Dr. Mitsuo Kawato (Director of ATR Computational Neuroscience Laboratories and ATR Fellow(see http://www.cns.atr.jp/for his vitae). He gave us insights of computational neuroscience which is new to most of IEEE members. The lecture also covers development of humanoid robotics as virtual humans, so as to prove it as a real contribution to real industries. The participants enjoyed technical discussions with him.

View of Lecture
Celebration Ceremony for 2008's Fellows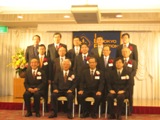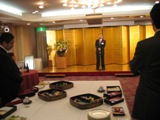 After the General Assembly, there was a celebration ceremony for newly selected IEEE of Fellows in 2008. 10(out of 11) new IEEE Fellows in the Tokyo Section attended the ceremony. Each new Fellow was introduced by the citation, announced by Tokyo Section Treasurer Hashimoto, and honored by the presentation of the Radio-Controled Alarm Clock with IEEE logo, handed by Section Chair Aoki. They gave the audience rejoicing speeches on aspirations and resolution for further efforts in their professions either in research or in business.
From 5:00pm on the same day, a congratulation party for new IEEE Fellows was held at the same hall to honor their achievement and to intercharge between them.
First Meeting of 2008 of Tokyo Section Executive Committee
The First Tokyo Section Executive Committee Meeting of 2008 was held at IvyHall Aogaku Kaikan from 12:30pm on March 17(Mon.).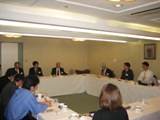 2005 Meeting Schedule=


The second meeting: Monday June 23 at Toshiba Building
The third meeting : Monday October 6 at Toshiba Building
The forth meeting : Monday December 8 in Tokyo




First Meeting of 2008 of IEEE Japan Council Committee

The First Executive Committee Meeting of the IEEE Japan Council Committee of 2008 was held on March 24 (Mon.) from 3:00pm at Toshiba Building.

=2008 Meeting Schedule=


The second meeting: Monday, August 25 at Sendai Plaza Hotel
The third meeting : Tuesday, December 2 in Tokyo




The letter concerning Bulletin is here

    

Notice from IEEE Tokyo Section Office