Year 2007 Student Branch Leadership Training Workshop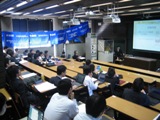 2007 Student Branch Leaderhip Training Workshop was held
at Kyoto University on October 20, 2007.
52 members, incluiding 36 students from
16 Colleges
which
have each Student Branch, 2 students from University of
Hyogo which is now preparing to set up their Student Branch, and 2 members from IEEE Japan Council, were participed.
The Workshop came off quite meaningful because the major emphasis was placed on the student's independence.Actually all the plan and pratice of
this Workshop were done by the Student Branch of Kyoto University.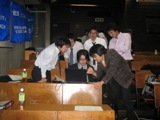 In the morning session, all the participants introduced
themselves and each Student Branch reported their
original activities. In the afternoon session,
the trainer, Professor Onoye of Osaka University,
lectured the following matters about IEEE and IEEE SB.
IEEE Overview
Branch Administration and Planning,
Branch Resources and Fundraising, etc.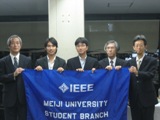 After the lecture, students work on the training program.
The theme of the training program was "Software
implementation of"Gobang(Go_moku_narabe in Japanese)algorithm".
Students were divided into 6 teams and compete with
each other in the actual"Gobang" game.
Get-together party was subsequently held.
The Branch-flag was presented to a new Meiji University
Branch, which was set up in February 2007.Students cultivate friendship with each other
through this party.

View of SBLW

Report of 2007 Student Branch Leadership Training Workshop in Kyoto University
(in Japanese)

Reported by Meiji University Student Branch(in Japanese)
Year 2007 Second Meeting of Chapter Operations Committee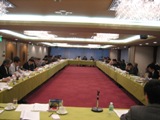 The Second Meeting of the IEEE Japan Council Chapter Operations Committee of 2007 was held on November 6 (Tue.) from 3:00p.m at Kousaikaikan, Tokyo.The 46 members were participated. The 2007 ativities of the Japan Council were presented by the Secretary. The 2007 activities of the Chapter Operations Committee were reported by the Chair.The number of supported projects using the chapter operation fund was 54. The EMB West Japan Chapter and LEO Kansai Chapter were estabilished in April 2007.The activities from June to October 2007 were also reported by each chapter.
Year 2007 Second Meeting of Japan Council Long Range Strategy Committee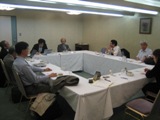 The Second Meeting of Japan Council Long Range Strategy Committee of 2007 was held on November 15th (Thu.) from 5:30p.m at Aogakukaikan, Tokyo.
The Minutes of First Meeting of Japan Council Long Range Strategy Committee was explained by the member Hashimoto and approved.
On this meeting there was a lively discusion.
On next year LRSC will continues a discussion about a relation between IEEE and national academic societies.

Notice from IEEE Tokyo Section Office
Tokyo bulletin has been issued only via E-mail.
Have you renewed your 2007 IEEE membership? With your Web Account, you can easily renew your membership online.
Tokyo Section encourages membership upgrade to Senior Membership. Visit IEEE website for Online application. For details, please refer to Senior Membership application procedure.
If you change your e-mail address or fax number,please be sure to notify IEEE HQ . By registering your Web Account Online notification is enabled.
IEEE Tokyo Section welcomes any comments, requests or inquiries from our members. Please send them to: tokyosec@ieee-jp.org